Maja Mesić
Maja has graduated at Zagreb School of Design and now works as freelancer in the field of product design. She exhibited in a number of Croatian and international shows, and successfully participated in several workshops and international competitions. Maja's projects focus on interaction of user and object, particularly paying attention to user needs, ergonomics, and function.  
Maja is a member of Croatian Designers Association and Association for Industrial Design at Centre for Design, Croatian Chamber of Economy.

(more info: facesofdesign.com/maja-mesic)
BOYA CRAYONS, 2009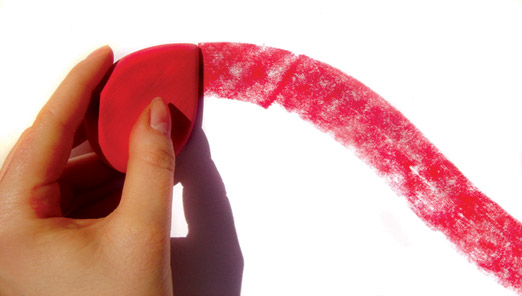 Crayons Boya present an innovative approach to drawing, their shape being direct result of research in drawing ergonomics and function. Unlike the restrictive form of pencil-shaped drawing tools, Boya's tear-drop form has been devised to allow more natural and expressive hand movement. Furthermore, the shape possesses a tactile, sculptural quality which invites use and experimentation.